Our lodge, has 4 bedrooms that accommodate 2 people per room. Two bathrooms are equipped with sinks, toilets, tubs and showers. Telephone, satellite t.v. and excellent meals served family style in a clean and spacious kitchen. All meals are provided and the food is fantastic. The menu can be changed to accommodate special needs. We also have sleeping and washroom facilities for an additional four hunters in a newly constructed building at our lodge site.
There is ample parking and outside plug-ins for charging batteries. We have a washer and dryer available at the lodge at no cost to you.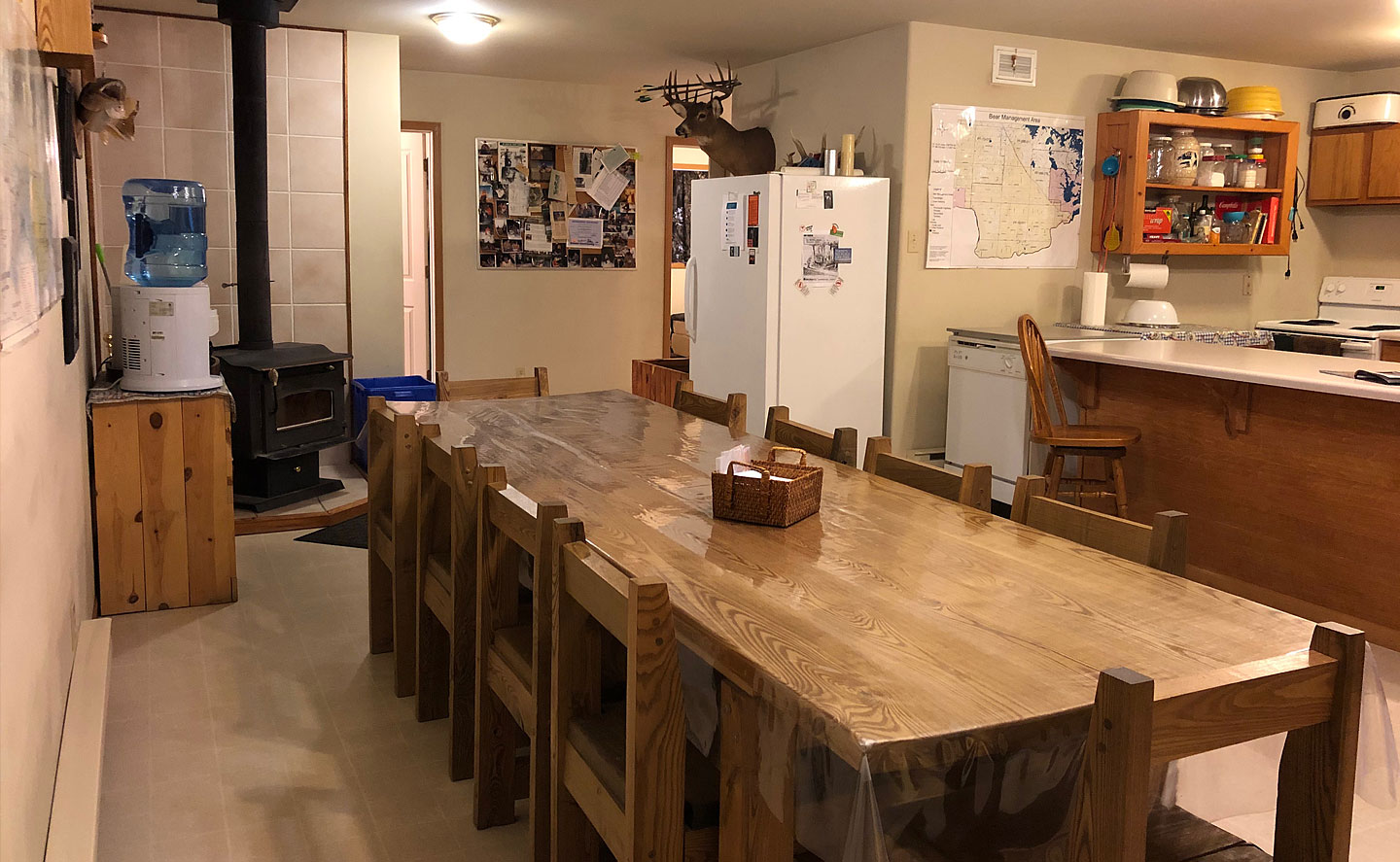 The Area
The outpost is located on Pipestone Lake in Northwestern Ontario, about an hour and a half north of International Falls MN. Pipestone is part of a chain of lakes that consists of Clearwater, Despair, Loon Haunt, Footprint, Slender, Weld, Jackfish, Stone Dam, Manomin River and of course Pipestone. There is no road access to Pipestone, the only way to get there is by boat or plane, or a snowmobile in winter. To get there by boat you travel up Clearwater lake and take a short mechanical portage to Pipestone. It is about 22 miles by boat to the outpost. The outfitter will meet you at the boat launch and either take you up in his boat or you can follow in your boats.
Accommodations
Pinecrest Cabin is a three bedroom log sided cabin on a cliff overlooking Pipestone Lake. The cabin has three bedrooms with two beds in each room. There is a kitchen and dining room, a sitting area with tables, couches and chairs. The indoor bathroom has a flush toilet and hot showers. Other amenities include, a thermostat controlled wood stove, refrigerator, deep freeze, propane cooking stove, a screened porch overlooking the lake, and a floating dock in a protected bay. The lights and water pump are run off solar panels and there is a generator to run the lights, fridge and freezer. Guests bring their own bedding, tea towels, bath towels, and shore lunch pans. All other pots, pans, and place settings are provided.
Northwest Arm Cabin is a newly constructed two bedroom cabin with 8 beds, so the camp can accommodate 8 people. There is a separate bathroom and shower house about 10 feet from the main cabin. Other amenities include a wood stove for heat, refrigerator, propane cook stove with oven, deep freeze, electric lights and water pump run off of solar panels, and there is a Honda generator to run the lights, fridge, and freezer. Guests bring their own bedding, towels, tea towels, food, and shore lunch pans. All other pots, pans, plates, utensils, cups and glasses are provided.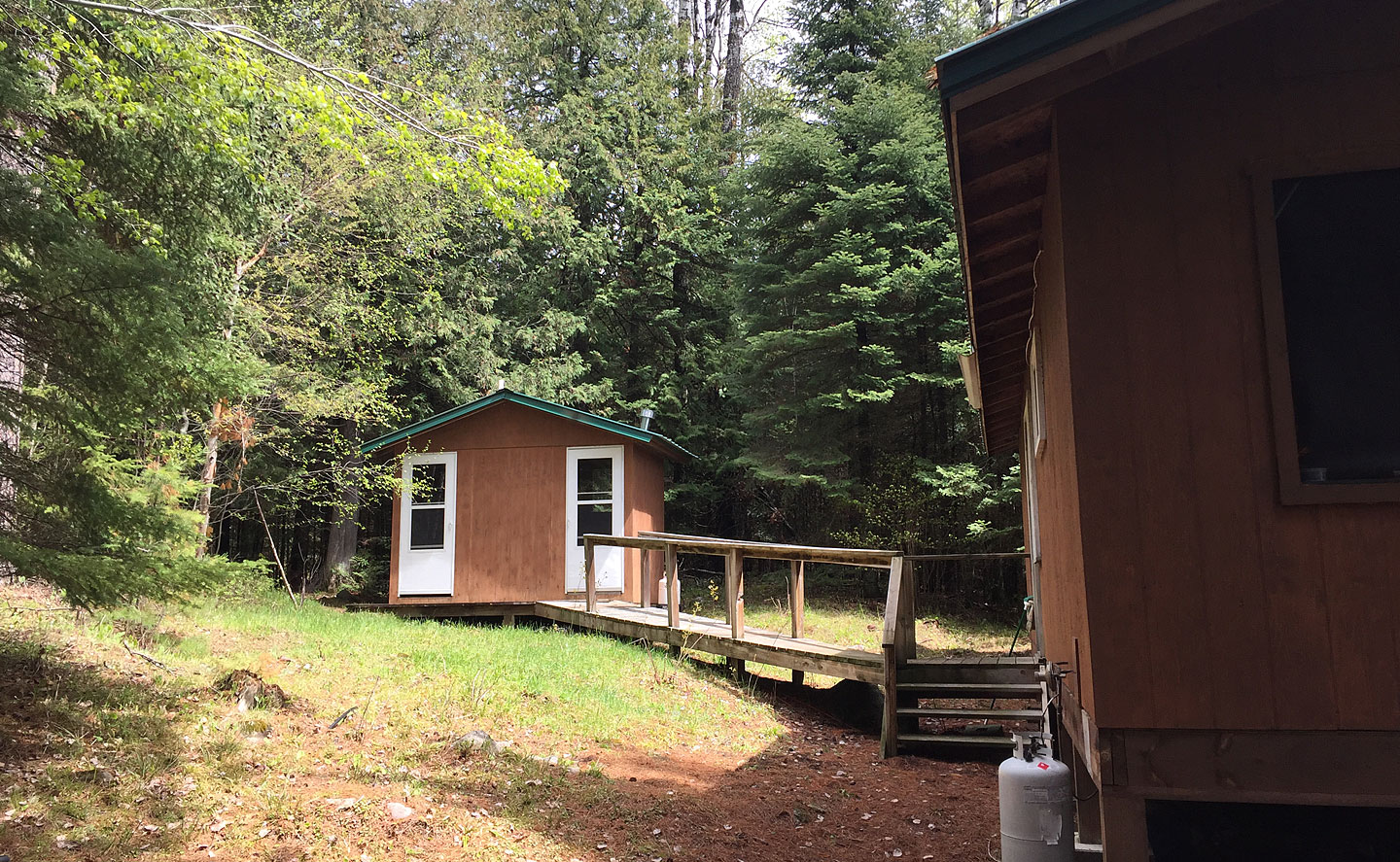 No place can match the North Woods for classic whitetail hunting – and you'll look hard to find lovelier country than Ontario's southern fringe. When I return, it will be with Border Country Outfitters. They're down-home people, great hosts, and serious about helping you find big deer.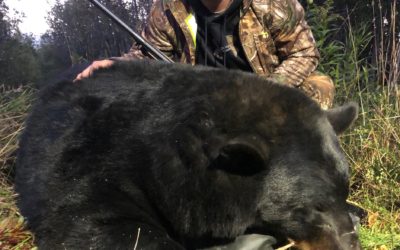 Season's Greetings from Border Country Outfitters Seasons Greetings from Border Country Outfitters! After a couple years' reprieve, and many hurdles and challenges (Cecil's passing in 2019, Covid-19 in 2020), we decided to resurrect the annual newsletter and continue...
read more