The Rainy River is a very unique river in the amount and size of walleyes that it can produce for the thousands of fisherman that come to it every spring. Most of the fishermen are on the United States side of the river. Border Country offers you a chance to fish on the Canadian side to get out of the crowds of people. We take away the hast le of crossing the border for your entire vacation just to get away from the crowds. Our boat landings do not have the waiting line like the US side does.
The Rainy River produces many trophy sized walleyes. During the spring fishing season that runs from Mar. 1 to Apr. 14, there is a slot limit that allows you to keep 2 walleyes from -zero (0) greater than 46 cm. (18.1 inches). All fish that are above 18.1 inches be released immediately. These laws are effective for both the Sportsman and Conservation Non-Resident fishing license.
Don't think that the Rainy River only produces walleyes in the spring, it is a fantastic summer and an outstanding fall walleye fishery too. Just as there is in every river and lake, the fall walleye run allows you to hook onto some trophies as they are putting on the feed bags that they will need to survive the winter. From January 1 to the last day in February and the 3rd Saturday of May of December 31st, your daily limit is 2 fish with one being allowed over 18.1 inches and your possession limit is 4 with only one over 18.1 inches. This pertains to the Sportsman fishing license. With the Conservation license, your daily and possession limit is 2 fish with one greater than 18.1 inches (46 cm.)
Also during the spring while fishing the Rainy River, you also have the chance of hooking into an ancient giant. Not only are the walleyes up for the spawn, but lake sturgeon that can be 100+ pounds are also caught daily during the spring fishing season.
If you are looking for a place to stay while you are fishing Rainy Lake, Lake of the Woods, Clearwater Lake or Pipestone, we are the ones for you. Our lodge is located 45 minutes from each lake and gives you the opportunity of fishing any one of these lakes on any given day of your trip.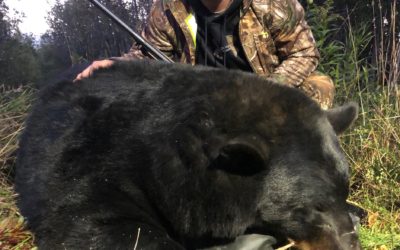 Season's Greetings from Border Country Outfitters Seasons Greetings from Border Country Outfitters! After a couple years' reprieve, and many hurdles and challenges (Cecil's passing in 2019, Covid-19 in 2020), we decided to resurrect the annual newsletter and continue...
read more