Semi-guided hunt on miles of groomed trails over 20,000 acres of private land (with/ without your own dogs). We have a diverse population of upland game birds including ruffed grouse, woodcock, sharptail grouse, and prairie chicken.
Hunting parties will stay at our lodge for the duration of there trip. Hunting parties will be responsible for transportation to and from hunting locations also their own meals. Owners will prepare one or two dinners for hunting party if they so desire. We recommend three to five days for a quality hunt.
Available from September 27 – October 18
Ruffed Grouse Hunt – $250 USD (per hunter per day) plus 13% HST
Guests are responsible for:
food, cooking, cleaning, transportation on lake for their length of stay. We do have rental boats available if required.
"Bird Dogs Afield was here in the fall of 2013 for a grouse hunt and film shooting. I have never seen so many grouse. Our 2nd day we had 49 ruffed grouse flushes and 6 sharptail flushes. In all about five hours of hunting. Our trip to Emo is one of our best broadcast television episodes this fall. Watch it below!"
Northwest Ontario Upland Bird Hunting – Gear List
Here is a list of equipment and clothing you may want to bring along for your bird hunt with Border County Outfitters. We can have a wide range of temperatures in the same week so we strongly suggest that you come here prepared.
Blaze Orange Hunting Clothing
Bug Spray
Head Net
Waterproof Boots
Light Gloves
Wind Proof
and Water Proof Over Pants
Waterproof Over Jacket
Shotgun of your choice
Ammunition
Hunting Knife
Multi-Tool
Flashlight
Emergency Kit that includes First Aid and Fire Starter
Shooting Glasses
Compass
Two Way Radio
Cell Phone if you have access to one (we advise that you access a Canadian plan for your trip to Canada)
Toilet Kit
Prescriptions and Spare Eye Glasses
Hat and Face Mask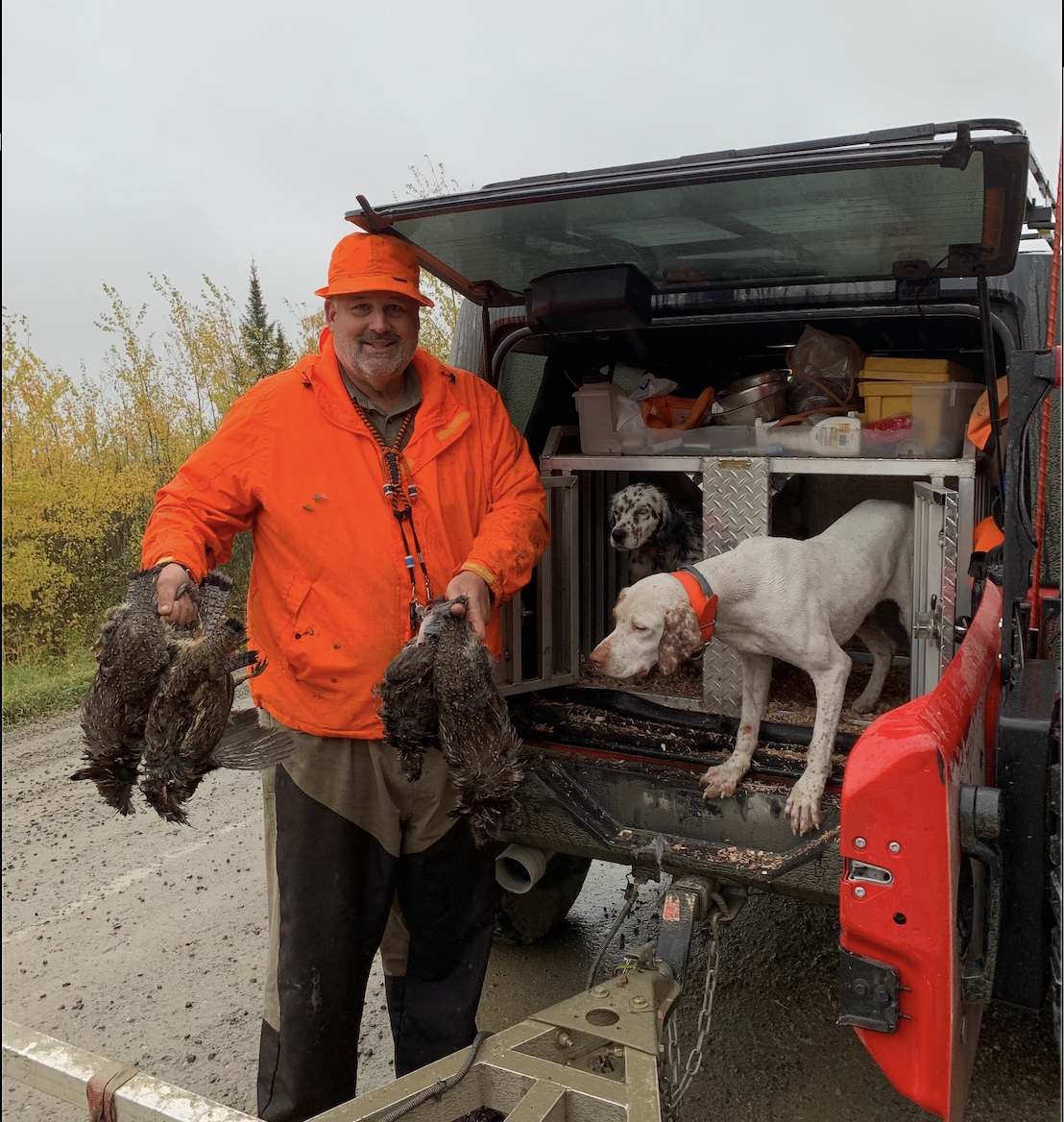 I have been hunting Border Country Outfitters for several years and have never been disappointed in any aspect of the hunt trip.  The owners treat me like family and I look forward to hunting there for years to come.