Whitetail Hunting Success Stories
"No place can match the North Woods for classic whitetail hunting – and you'll look hard to find lovelier country than Ontario's southern fringe. When I return, it will be with Border Country Outfitters. They're down-home people, great hosts, and serious about helping you find big deer."
Dr. Wayne van Zwoll
Outdoor Writer
Bridgeport, WA
"I had a real nice experience with BCO. Excellent trophy area! Sis is the best cook! Thanks guys!"
Lee McGinley
"Everything you would expect from a trophy Canada whitetail hunt without having to travel to Saskatchewan. Great accommodations, big-bodied, heavy racked northern bucks and knowledgeable guides. Thanks Border County Outfitters."
Gordy Krahn
Editor
North American Hunter
"The hunting trip was a great experience. I enjoyed the people and the food. The hunting is great up here. Hope to do it again soon."
Jeff Champagne
"The biggest buck of my life! Thanks for everything! I had a great time!"
Tom Koranda
"As a resident of Northwestern Ontario, I spend a lot of time hunting this regions legendary whitetail deer. We grow big bucks in Canada, but the land north of Emo, where the Canadian Shield meets the Rainy River Valley, is simply the best I've ever seen for truly consistent, monster bucks. These bucks have massive bodies and amazing, Booner-quality racks. Border Country Outfitters sits right in the middle of this regions prime deer hunting land, and forests are managed to grow monster bucks. The folks at Border Country treat you like family and provide a Canadian buck hunt that is both challenging and exciting. If hunting trophy Canadian whitetail bucks is your passion, Border Country is the place to be."
Gord Ellis
Outdoor Writer, Ontario Out of Doors
Ontario Columnist, Minnesota Outdoor News
Black Bear Hunting Success Stories
Border Country Outfitters Bear Hunt: August 15-20, 2006
I enjoyed my first bear ever with Border Country Outfitters in August of 2006. It was a huge success – my husband and I very easily filled both tags. One bear was a chocolate and one was a very nice black bear. All 11 hunters has opportunities for various shots. I have hunted for many years, but experience is not a prerequisite with this group.
In fact, as a mother, I would highly recommend this hunting experience to introduce your son or daughter to hunting, or for any first time hunter. You will see game, and it's afternoon hunting (no rolling out of bed before dawn).
BCO and their wonderful staff make sure you are safe both into and out of your hunting spots, and ensured that any bear you harvested were quickly and properly handled from start to finish.
As a female hunter, I was completely at ease in the traditional "hunting camp" atmosphere, and the beautiful and comfortable accommodations easily allowed for my "female" presence there with the other guests. BCO's elevated double tree stands permitted us to experience the hunt together as a husband and wife team – a nice touch — which would also enable you to accompany a youth hunter or for a BCO guide to accompany you. All-in-all, BCO is definitely a "10 out of 10" for a great hunting experience. We are so glad we made Border Country Outfitters our choice!
Karen A. Fischer
Executive Assistant – Global Environmental and Safety Actions
Ph. 262-260-3943; Fax. 262-260-3414; email kafische@scj.com
6 foot 3 inch 400 pound Black Bear
"Class act! Not only were you treated as a hunter/client but you became a friend of the family and treated as such the entire hunt. Truly a unique hunting experience. Speaking of hunting…BCO personnel knew their business. Not unlike Arnold … I'll be back! Thank you for a great week!"
Bill Malarkey
"The biggest bear of my life at 7 feet in length and 540 pounds. Great Hunt!"
Jimmy Ruffin
6 foot 2 inch 375 pound Black Bear
"Without a doubt the best hunting experience that I have ever had. First class people and a first class hunt!"
Scott Ray
6 foot 1 inch 400 pound Black Bear
"Outstanding! Great facilities, great food, and lots of game. Border Country has it all and they make you feel at home. I will be back!"
Dennis Malarkey
6 foot 350 pound Black Bear
"I had a wonderful time. A tremendous amount of bears were present. The food and guides were excellent; I don't think they could be matched anywhere. Thanks for the awesome experience."
Casey Nachtman
6 foot 295 pound Black Bear
"After hunting in Canada and North America for 15 years this was as good an experience as I have been fortunate to enjoy anywhere. Great accommodations, super food, most congenial hosts and numerous game. Almost an average of 3 bears seen from each stand per evening!!! I'm already looking forward to planning my return trip. Thanks again to all!"
Graham Hill
6 foot 6 inch 400 pound Black Bear
"A great hunt with great folks and a great cook."
Jerry Ruffin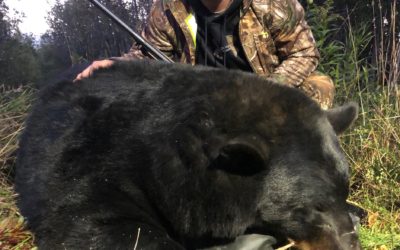 Season's Greetings from Border Country Outfitters Seasons Greetings from Border Country Outfitters! After a couple years' reprieve, and many hurdles and challenges (Cecil's passing in 2019, Covid-19 in 2020), we decided to resurrect the annual newsletter and continue...
read more